This week at the farmers market I picked up a bunch of fresh California strawberries. Which means E and I got to make our very favorite strawberry treat.
This is a family "recipe" (it can hardly be called one), but it's way too good not to share. As a kid I used to help my
grandma
make these to bring to my grandpa
at the jewelry store
. I still can't believe we got away with calling this lunch, but it was one of those special grandparent treats I'll never forget.
Now, because E & I are young and can be irresponsible, we eat this for breakfast (I try to get in healthy bread at least).
First, toast two slices of bread (oatnut, in my case).
While the bread toasts, slice up four strawberries and take out the butter and brown sugar.
spread butter on toast immediately and allow it to melt (this is essential--the toast must be hot!)
sprinkle 1 tsp of brown sugar on each slice. (spread it evenly so the sugar melts into the buttered toast)
layer with sliced strawberries.
enjoy with coffee in your disney-loving husband's tinkerbell mug [optional]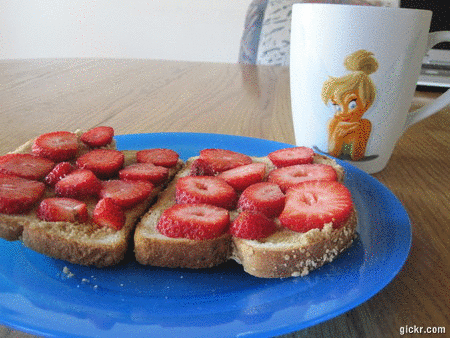 nom.