Life iz much crazier here than I imagined. The last two weeks have been roller coasters of emotions--from finding out our venue booked an event the night before the wedding (so I won't be able to get in to decorate), to key people not being able to make it to the rehearsal. I have a hard time saying all my goodbyes, so I've been avoiding it and feeling bad.
But we've tackled each hurdle as it comes and it feels good to be working through it all. My to do list for the next four days seems endless.
E got in last night and all I want to do is cuddle and dream about the future when the craziness is over. But we're so looking forward to a big party with our family and best friends before it's all over!
I've already got some posts scheduled for when I'm gone in Italy on the honeymoon, and I'm not sure you'll hear from me again until the big day. Until then, I'll leave you with this picture taken this afternoon at the courthouse (on my blackberry)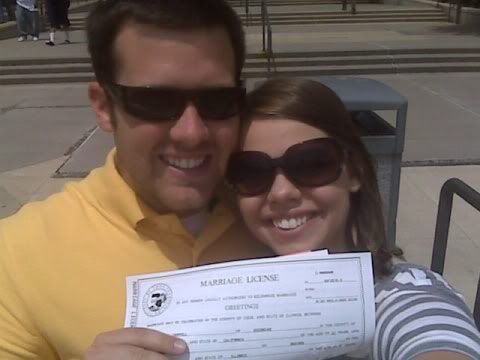 It's all happening so fast...it hardly seems real!